Cyclone Amphan path map
Super cyclone Amphan (alluding to the Thai word for "sky") developed in the Bay of Bengal as the strongest cyclone ever to be recorded in the region, comparable to a Category 5 hurricane.
During May 13, an area of low pressure developed over the southeastern Bay of Bengal about 1020 km (635 mi) to the southeast of Visakhapatnam (Know Where is Visakhapatnam) in the Indian state of Andhra Pradesh (See the Cities of Andhra Pradesh).
Quick Updates on Amphan Super Cyclone
Super Cyclone Amphan was named 18 years ago.
Thailand named the storm in 2004.
That was the first stage of naming the storm.
Cyclone Amphan has claimed 86 lives in West Bengal and caused havoc in at least 14 districts.
Over 44.45 Lakh People Affected Due To Cyclone Amphan In Odisha
9833 number of villages, 1558 Gram Panchayats in 92 Blocks and 272 Wards in 22 Urban Local Bodies have been affected in 10 districts of Odisha.
Over 5,000 trees uprooted, hundreds of lamp posts damaged
Power supply, phone connectivity disrupted in Kolkata
NDRF teams continue with restoration work in Bengal's Uluberia
Odisha assesses damage, thanks IMD for heads-up
Two NDRF teams from Pune airlifted for relief work in cyclone-hit Bengal
Kolkata Airport flooded, 5,000 trees uprooted; no power, phone, Internet connections
State of Kerala stands in solidarity with the people of Odisha
Amphan Cyclone Current Position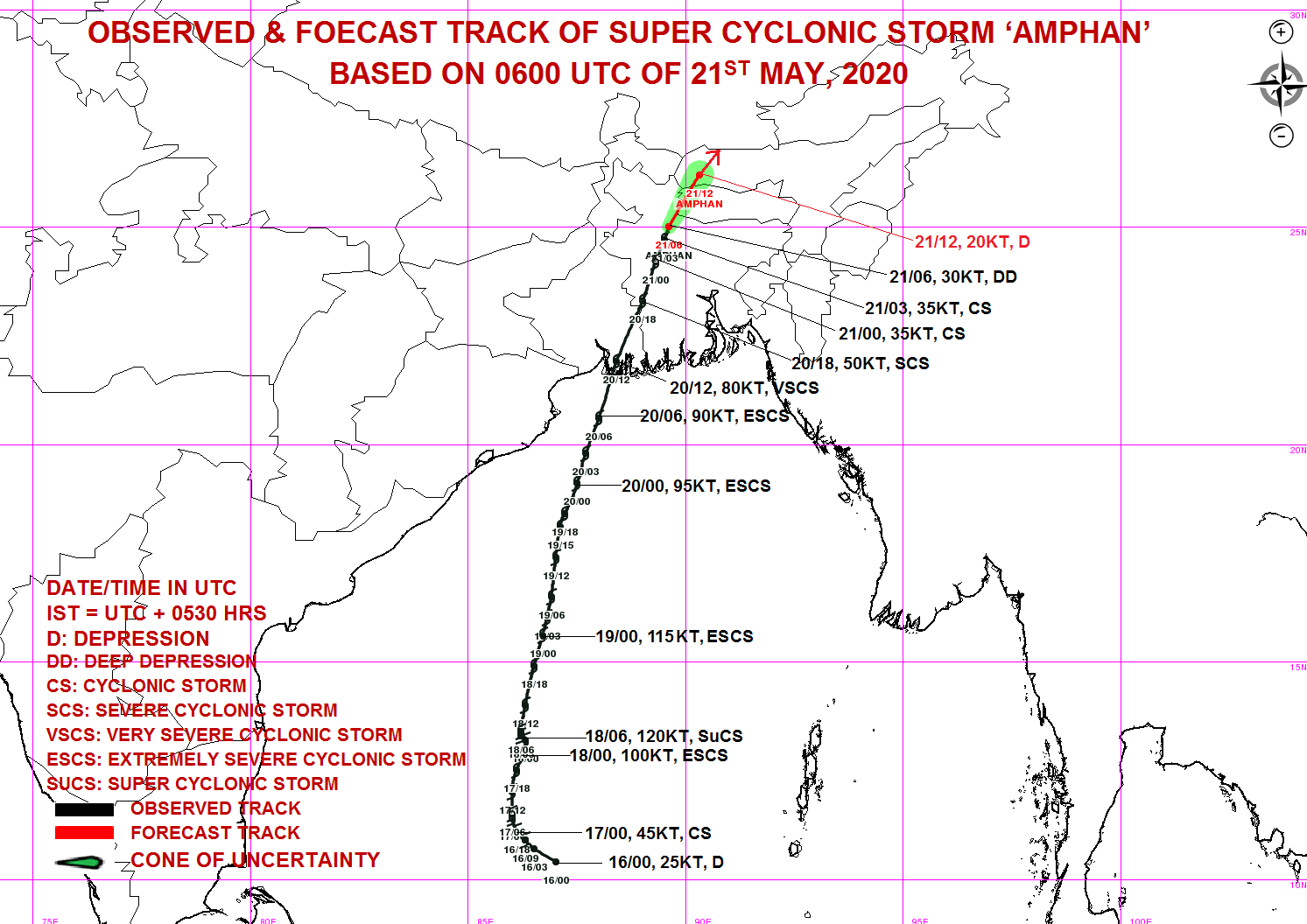 Source: https://mausam.imd.gov.in/
Major Cyclones in India
| S. No | Name | Date | Affected States | Speed |
| --- | --- | --- | --- | --- |
| 1 | Cyclone Vayu | 10 June 2019 – 19 June 2019 | India, Pakistan, Maldives, Oman, Lakshadweep | 185 km/h |
| 2 | Cyclone Fani | 26 April 2019 – 5 May 2019 | Odisha, Bangladesh, Sri Lanka, Andhra Pradesh, East India | 250 km/ |
| 3 | Cyclonic Titli | October 8 – October 12, 2018 | Andhra Pradesh, Odisha | 150 km/h |
| 4 | Cyclone Hudhud | 8 October 2014 – 14 October 2014 | Visakhapatnam, Odisha, Andhra Pradesh | 215 km/h |
Cyclone Amphan Updates
[21st May 2020 11.55AM]Cyclone Amphan made landfall in eastern India and Bangladesh on Wednesday, killing at least 15 people as it lashed coastal areas with ferocious wind and rain.
[21st May 2020 09.15AM]West bengal- Water logged in streets, vehicles crushed under fallen trees and broken river jetties were also all over local media
[21st May 2020 08.05AM]A total of 12,078 cyclone shelters were prepared throughout the country's coastal regions, where over 2 million people were evacuated.

Source:BBC
[20th May 2020 03.15PM] NDRM teams are working, high alerts for the 8 states of India, outer part of Storm hits the west Bengal and Odisha.
[20th May 2020 03.05PM] Storm from Bay of Bengal will hit the West Bengal at Digha with the speed of 100-110 KM/hr.
[20th May 2020 03.00PM] Due to Amphan Cyclone air is blowing 100KM/Hr and water waves are very high in Sea means Bay of Bengal.
[20th May 2020 01.40PM] Amphan Cyclone will hit the coastal of West Bengal by 2.30 PM today.
[20th May 2020 11.00AM] On Wednesday and Thursday, extremely heavy rain falls are forecast across coastal West Bengal in districts like East Medinipur and West Medinipur, South 24 Parganas and North 24 Parganas, Howrah, Hoogli and Kolkata.
[20th May 2020 11.05AM]High alert districts of Odisha are Gajapati, Ganjam, Puri, Jagatsinghpur, Kendrapara, Jajpur, Balasore, Bhadrak, and Myurbhanj
[20th May 2020: 7.20AM]Amphan Cyclone, now in the category of Extremely Severe Cyclone, has moved closer to the mainland and is few hours away from making landfall today. As of 2:30am on Wednesday, it lay at 180 kms south of Paradip, Odhisha and south-southwest of Digha, West Bengal.
[19th May 2020: 10.12PM] The Cyclone will hit the coastal area of India by Wednesday i.e 20th of May 2020.
[18th May 2020: 11.30PM] The cyclone is moving closer to the two states. "The Super Cyclonic AMPHAN at 2330 hrs IST of 18th May, 2020 near latitude 14.9°N and longitude 86.5°E over Westcentral Bay of Bengal about 600 km nearly south of Paradip (Know the Cities of Odisha), o750 km south-southwest of Digha (See the Cities of West Bengal).
Source:https://twitter.com/Indiametdept
Predicted Path map of Cyclone Amphan
Quick Facts about Cyclone Amphan
| Name | Amphan |
| --- | --- |
| Status | Super Cyclonic Storm |
| Origin | Bay of Bengal |
| Position | 15.6° N, 86.8° E |
| Affected states | Odisha and West Bengal |
| Winds | 222 km/h |
| Date of Origin | 13th May 2020 |
| Wind Gusts | 268 km/h |
| Predicted hit to India | 20th May 2020 |
| Movement | NNE 17 km/h |
Super Cyclonic Storm Amphan (JTWC designation: 01B) is currently a very powerful tropical cyclone over the Bay of Bengal threatening Odisha and West Bengal in India as well as Bangladesh.
How Amphan Cyclone Affect the Indian States
It is the first tropical cyclone of the 2020 North Indian Ocean cyclone season. Amphan is the first super cyclonic storm in the Bay of Bengal since the 1999 Odisha cyclone, as well as the most intense cyclone ever recorded in the North Indian Ocean in terms of minimum central pressure and 3-minute sustained winds.
Cyclone Amphan route map
The storm is expected to make landfall in between Digha (West Bengal, India) and Hatia Islands (Bangladesh) on Wednesday, 20 May 2020. However, it is expected to weaken and turn into a Extremely Severe Cyclonic Storm before hitting the coast. (Source: wikipedia)